NeuroLab®, a division of Sanesco International, Inc., has met all criteria for laboratory accreditation by COLA, a national healthcare accreditation organization. Located only three miles from downtown Asheville, NeuroLab receives daily shipments of saliva and urine from people all over the world. As of one of the world's premiere specialty laboratories for the clinical assessment of neurotransmitters and hormones, NeuroLab partners with health care practitioners and doctors to process patient tests to assess how the patients' neurotransmitters and hormones are functioning within the body.
COLA-Certified Neurotransmitter and Hormone Testing
NeuroLab®, established by one of the pioneers of neurotransmitter testing, achieved COLA certification in June of this year. COLA encourages continuous self-assessment in order to be audit-ready at any time. COLA requires continuing education to build laboratory technicians' skills, therefore helping ensure the ongoing improved performance of NeuroLab's staff. COLA also sets special guidelines and requirements for mass spectrometry labs, which help ensure accurate and reliable test results.
"COLA accreditation and the biannual survey process provided offers us the opportunity for continuous quality and laboratory improvement," said NeuroLab's Laboratory Manager, Lisa Samuelson. "COLA is not only a regulatory entity, but they are also an educational partner.  Through COLA accreditation, self-assessment, and on-site surveys, we are able to stay up to date with the ever-changing landscape of the clinical lab environment as well as make constant positive improvements to the quality and reliability of our test results."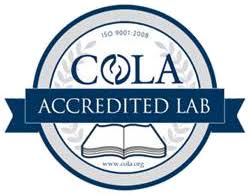 For nearly a decade, Sanesco has specialized in furthering clinical and patient knowledge and understanding of the HPA-T Axis (Hypothalamic-Pituitary-Adrenal-Thyroid Axis) aimed at improved whole-person care and quality of life.  By developing innovative clinical tools for clinicians to support improved patient outcomes, Sanesco is a leader in assessing, monitoring and correcting neurotransmitter and hormone imbalances. Hundreds of clinicians and thousands of patients worldwide now have restored health through functional testing, using Sanesco's NeuroWellness Program™.
NeuroLab Assesses Important Biomarkers
NeuroLab tests for important urinary neurotransmitter biomarkers, including serotonin, GABA, glutamate, dopamine, norepinephrine, and epinephrine through a non-invasive urine collection. The adrenal hormones, cortisol and DHEA, are measured through four saliva collections throughout the day. This type of test is convenient for patients to complete in the comfort of their own home, and is only available through licensed health care practitioners. These tests reveal neurotransmitter and hormone imbalances which may contribute to a number of underlying factors in chronic illness and disease.
Helping clinicians master NeuroWellness Program™, a clinical model created to give a window into the function of the neuroendocrine system, has been the continual focus of NeuroLab®. By working with COLA, NeuroLab® has proven once again to be a leader in the study, testing, and reporting of biomarkers associated with the Hypothalamus-Pituitary-Adrenal-Thyroid (HPA-T) Axis function.
To learn more about NeuroLab®'s services, visit http://www.sanescohealth.com/laboratory-services/.
About COLA:
COLA is the premier clinical laboratory education, consultation, and accreditation organization. They are an independent accreditor whose practical, educational standards have a positive and immediate impact. Their services enable clinical laboratories and staff to meet Clinical Laboratory Improvement Amendments (CLIA). These amendments are the United States federal regulatory standards that apply to all clinical laboratory testing performed on humans in the United States, except clinical trials and basic research. These and other regulatory requirements act in accordance with Quality Systems and provide the best possible patient care.